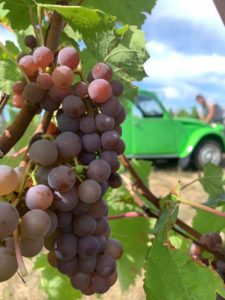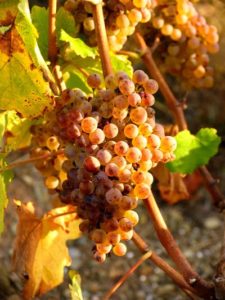 Our way of work is focused on a permanent research of quality, at all levels:
Grass growing has been one of the first project to compete with some very vigorous vines. This creates a beneficial stress for a successful maturity: less grapes but more concentrated.
The pruning, which is made during the winter season (from December to March), allows the regulation of vine growth so we can get high quality grapes. The pruning is short so the quantity of grapes is lower but more concentrated so we can produce rich wines with more complexity.
We do leafing twice a growing season, in June/July on the rising sun side and mid-September on the sunset side, to aerate the grapes. With this process the maturation is favored from the beginning of the summer, and when the autumn begins, we get a natural aeration as the grapes are getting drier from the wind and the sun. This is how we avoid bad rot.
Green harvesting allows the relaxation of too vigorous vines while splitting and decreasing the number of grapes on every vine, which leads to an improved maturation of the remaining grapes.
For Maturity optimization: we closely watch all our vines fields  to verify the level of maturation ripening, the level of sweetness, and the health status of the grapes. After observing the weather evolution, we launch the harvest on the concerned parcels.
The harvest sorting allows us to only pick up the grape bunches (or even only certain raisins) that will be used in order to elevate our Coteaux du Layon.
We are certified HVE (High Environmental Value) in order to allow the extension of the work carried out for fifteen years. This certification shows our interest in preserving the environment. At Pied Flond, we are lucky to benefit from hedges, groves, meadows and water points around the vines. This allows us to preserve the varied fauna and flora that nature offers us.